Following the great success of the 45 Best Freeware Design Programs and attending requests of more open source apps, here is a new extensive list of Open Source Graphic Programs that you may take into consideration for production use. There is a lot of technicalities when we talk about The Open Source movement, and we are not covering them here in detail, so please forgive me if I am not being formal enough with all the terminology.
You will find the name of the project, a lovely screenshot (who doesn't love screenshots?), the Development Status (I've included from Beta to mature ones) and the supported platforms. Please notice that some of the projects may have restricted license use; before using a particular software, check first if the intended use is allowed. Most of this list allows commercial use, but that may or may not change in the future, so check first with the site before using it.
As I said before, maybe they won't replace your commercial apps, but some of them are worth keeping and eye on since they are in constant evolution. Which is the great thing about open source: due to their nature, everyone can contribute to its growth.
I know I know we are designers and most of us don't do code (have met only a few who code and design beautifully blessed ones) but many of us have great can't-chose-even-the-right-font coders friends that might be interested

Editors


Production/Stable
MacOS X :: Aqua, Win32 (MS Windows), X11 Applications
Scribus is an open-source program that brings award-winning professional page layout to Linux/Unix, MacOS X, OS/2 and Windows desktops with a combination of "press-ready" output and new approaches to page layout.
Underneath the modern and user-friendly interface, Scribus supports professional publishing features, such as CMYK color, separations, ICC color management and versatile PDF creation.
Overview | Download

Production/Stable
Linux, Unix
DigiKam is an advanced digital photo management application that makes importing and organizing digital photos a trivial task. Photos can be organized in albums, which can be sorted chronologically, by directory layout, or by custom collections, and they can be tagged, commented, and rated. DigiKam makes use of a fast and robust database to store meta-information, which makes adding and editing comments and tags very reliable. Metadata can also be stored inside pictures using Exif and IPTC. An embedded image editor and a standalone application named showfoto have simple but powerful features for editing your pictures with filters and correction tools.
Overview | Download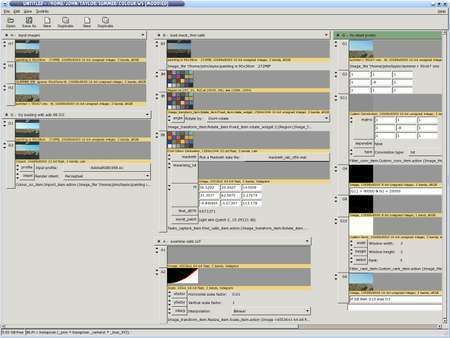 Production/Stable
Console (Text Based), Win32 (MS Windows), X11 Applications :: GTK
VIPS is a free image processing system. It aims to be about half-way between Photoshop and Excel. It is very bad at retouching photographs, but very handy for the many other imaging tasks that programs like Photoshop get used for. It is good with large images (images larger than the amount of RAM you have
available), with many CPUs (see Benchmarks), for working with colour and for general research & development.
Overview | Donwload
Glips Graffiti SVG Editor

Beta
Win32 (MS Windows), X11 Applications
The GLIPS Graffiti editor is a cross-platform SVG graphics editor based on Batik and developed by ITRIS. It features shape tools (rectangles, circles, ellipses, lines, polygons, and polylines), path tools (Bezier curves, conversion to a path, union, subtraction, and intersection), basic text support, and image import (SVG or Bitmap). Supported transformations are translate, resize, rotate,and skew. A property manager is available for each object, and a resource manager takes care of gradients, patterns, markers, and filters. It requires
Java VM 1.4.1 or higher. It is a part of the GLIPS Project, which aims to be a PLC cross-platform development environment.
Overview | Download

Production/Stable
MacOS X, Win32 (MS Windows), X11 Applications :: Qt
Album Shaper is a graphical application used to create, maintain, and share photo albums using open formats like HTML and JPG. Two-layer albums can be created in a drag-n-drop interface which allows quick and easy arrangement and categorization of photos. A few simple image manipulations such as rotation and flipping are provided to help get photos presentable as quickly as possible. Photos, subalbums, and albums themselves can be labeled as needed and modified at a later time by saving and loading from a simple XML format.
Overview | Download

Beta
Win32 (MS Windows), X11 Applications :: Qt
TundraDraw is a cross-platform ANSI/ASCII drawing program. It features network connectivity to allow artists to draw together over the Internet. It also features a 24-bit color mode to allow users to draw ANSI with a 24-bit color palette.
Overview & Download

Production/Stable
Win32 (MS Windows), X11 Applications
GLIMPSE is a multi-platform image manipulation package, supporting BMP, PCX, and TGA files. It is designed to require very few resources, and provides blurring, sharpening, brightness adjustment, watermarks, embossing, dodging, and edge detection.
Overview & Download

Production/Stable
Web Environment, Win32 (MS Windows), X11 Applications
WebPic is an application used to take a directory of digital cam pictures, and provide a frontend for Web viewing. It allows you to scale the images to different values, add comments, and display them in varying HTML styles. It uses ImageMagick for the image processing, and PerlMagick as the interface. It also requires the use of Tk::JPEG for image display. Please read the included Readme for more information on development and bugs.
Overview | Download
Graphics Conversion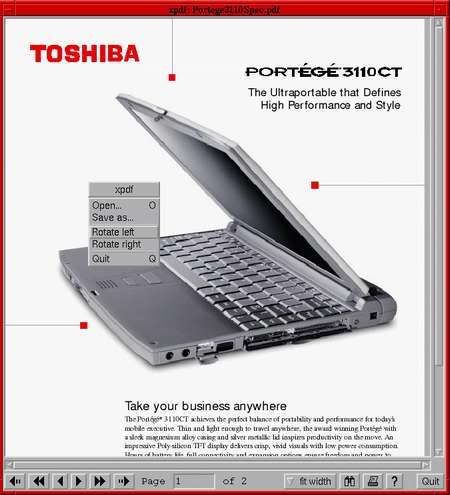 Production/Stable
Console (Text Based), Win32 (MS Windows), X11 Applications
Xpdf is a viewer for Portable Document Format (PDF) files. (These are also sometimes also called 'Acrobat' files, from the name of Adobe's PDF software.) The Xpdf project also includes a PDF text extractor, PDF-to-PostScript converter, and various other utilities. It runs under the X Window System on UNIX, VMS,
and OS/2. The non-X components (pdftops, pdftotext, etc.) also run on Win32 systems, and should run on pretty much any system with a decent C++ compiler. Xpdf is designed to be small and efficient. It can use Type 1 and TrueType fonts.
Overview | Download

Mature
MacOS X, X11 Applications, X11 Applications :: Qt
QCad is a powerful but easy to use 2D CAD program for Linux, Windows, and Mac OS X. It uses DXF as its standard file format. While other CAD packages are often rather complicated to use, QCad tries to stay comfortable, and even an absolute beginner can create professional drawings with a minimum of effort.
Overview | Download

Production/Stable
Web Environment
LinPHA is an easy-to-use, multilingual, flexible photo/image archive/album/gallery written in PHP. It uses an SQL database (MySQL/PostgreSQL/SQLite) to store information about your pictures. It comes with an HTML-based installer, so you don't need experience in setting up SQL databases. Thumbnails are created
as needed and stored in the SQL DB. It features complete user management, top ten statistics, hidden albums, different themes, slideshow, filemanager, uploader, watermarks, benchmark, printing, and more.
Overview | Download
Scilab Image Processing Toolbox

Beta
Win32 (MS Windows), X11 Applications
SIP provides image processing, pattern recognition, and computer vision routines for SciLab, a Matlab-like matrix-oriented programming environment. SIP is able to read/write images in almost 90 major formats, including JPEG, PNG, BMP, GIF, FITS, and TIFF. It includes routines for filtering, segmentation, edge
detection, morphology, curvature, fractal dimension, distance transforms, multi-scale skeletons, and more.
Overview & Download
Microsoft :: Windows, OS Independent, POSIX :: Linux
PNG2ICO converts .PNG files to Windows .ICO icon resource files. It is a simple tool for creating a favicon.ico for a Web site. It supports transparent backgrounds and multiple icons (usually alternative resolutions) per .ICO file.
Overview & Download

Production/Stable
Win32 (MS Windows), X11 Applications :: GTK
view3dscene is a viewer for VRML 1.0, VRML 2.0 (aka VRML 97), 3DS, and MD3 files. It supports viewing the scene in the "Examine" mode and walking in the virtual world with features such as collision detection and gravity.
Rendering is done using OpenGL. A built-in ray-tracer allows the generation of images with more effects (like shadows and mirrors) and conforming precisely to the VRML 97 lighting specification. The program can also convert files from 3DS format to VRML 1.0 and pretty-print VRML files.
Overview & Download

Production/Stable
MacOS X, Windows, Linux
Gallery Mage is a client side photo gallery management system designed to work with online gallery display scripts such as SPGM. Using Gallery Mage, one can select, caption, rotate, crop, resize, and upload photos taken with a digital camera to an online photo gallery. The rotate, crop, and resize parameters are stored as text data with the images, and the operations are only performed on a copy of the photo while exporting, thus preserving the original picture files. Gallery Mage provides abstraction from the online display software.
Overview & Donwload
Presentation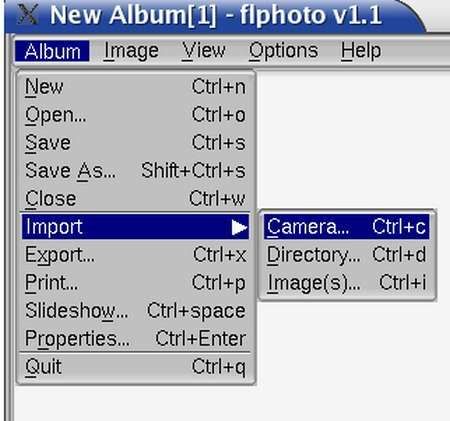 Production/Stable
MacOS X, Web Environment, X11 Applications
flphoto is a basic image management and display program based on the FLTK toolkit. It can read, display, print, and export many image file formats, and supports EXIF information provided by digital cameras.
Overview | Download
Beta
MacOS X, Microsoft :: Windows :: Cygwin, POSIX, POSIX :: Linux, Unix
DVD-Baker generates a DVD consisting of menus and slideshows from a picture collection stored in a Menalto Gallery G2 Web site or in a locally stored directory tree. Each "leaf" album (an album that does not contain sub-albums) is used to create a slideshow. The slideshows (and any DVD-ready MPEG videos) are made accessible on the DVD with menus that follow the structure of the Web site or directories. Extra features include random or sequential autoplay, and audio support. Since dvd-slideshow is used to produce each slideshow, it supports effects such as crossfades, crops, and 'Ken Burns' effects.
Overview | Download

Beta
MacOS X, Win32 (MS Windows), X11 Applications
Photovault is an image archiving and organization application for photographers. It supports easy searching, annotation, and organization of images, as well as simple image processing operations like cropping and free rotation.
Overview | Download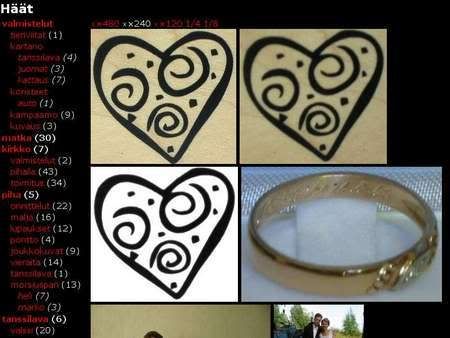 Production/Stable
MacOS X, Microsoft :: Windows :: Windows 95/98/ME, Microsoft
pHoToMoLo is a toolset for managing JPEG images in JFIF or Exif format. Photomolo generates a static HTML 4.01- and CSS 1-based multi-resolution image gallery for a directory tree containing images. Exifiron losslessly compresses and corrects the orientation of Exif JPEG images. Jpegnail removes or embeds thumbnails. Jpegcom lets you edit embedded image comments using any text editor and image viewer. A shell script frontend for Exifiron is included for copying images from removable storage, such as USB or Compact Flash.
Overview & Download

Production/Stable
Win32 (MS Windows), X11 Applications :: Qt
MinDia is an application for creating, modifying, and presenting multimedia slide shows. A Slide show can contain multimedia elements like images, sounds, and text. In addition to displaying on screen, it can control Rollei slide projectors (Rolleivision 35 twin digital P and Rolleivision twin msc 3×0 P)
via a serial port.
Overview | Donwload
Production/Stable
Microsoft :: Windows, POSIX
GFXIndex creates thumbnails (small representations of the original images) and some HTML-files to make an album that will help you organize your pictures and publish them on a Web page.
Overview & Download
Modeling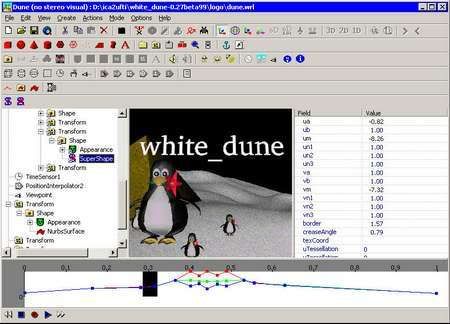 Production/Stable
Other Environment, Win32 (MS Windows), X11 Applications
white_dune is a graphical VRML97 editor, simple NURBS/Superformula 3D modeller and animation tool. VRML97 (Virtual Reality Modeling Language) is the ISO standard for displaying 3D data over the Web via browser plugins ("HTML for realtime 3D"). It has support for animation, real-time interaction, and multimedia (images, movies, and sounds). white_dune can read, create and display VRML97 files and let the user change the scenegraph/fields. It also has support for stereoscopic view via "quadbuffer"-capable stereo visuals, and support for 3D input devices like a joystick, spaceball, or magnetic tracker.
Overview | Download

Beta
GNU/Linux & Win32
K-3D is a 3D modeling, animation, and rendering system for GNU/Linux & Win32. Features include creation and editing of geometry in multiple realtime OpenGL solid, shaded, and texture-mapped views; unlimited undos and redos; complete extensibility at runtime through third-party plugins; animated procedural geometric effects; all parameters animatable through a consistent control-spline based interface; rendering pipeline to Renderman Interface compliant rendering engines; optimization for use with the Aqsis rendering engine, which features solid modelling, true displacement, and user programmable shaders; and support for
background and batch rendering.
Overview | Download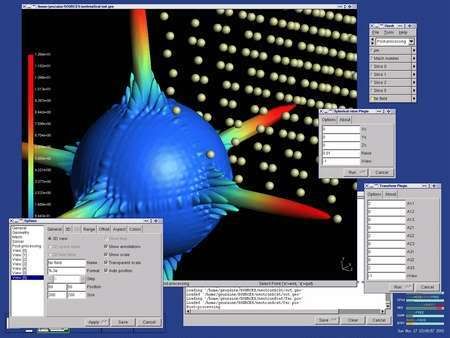 Production/Stable
MacOS X, Win32 (MS Windows), X11 Applications
Gmsh is an automatic 3D finite element grid generator (primarily Delaunay) with built-in CAD and post-processing facilities. Its design goal is to provide a simple meshing tool for academic problems with parametric input and advanced visualization capabilities. It is built around four modules: geometry, mesh,
solver, and post-processing. The specification of any input to these modules is done either interactively using the graphical user interface (based on FLTK and OpenGL) or in ASCII text files using Gmsh's own scripting language.
Overview | Download

Production/Stable
MacOS X, Win32 (MS Windows), X11 Applications :: Qt
Misfit Model 3D is an OpenGL-based 3D model editor. It supports multi-level undo, skeletal animations, simple texturing, scripting, command-line batch processing, and a plugin system for adding new model and image filters. Complete online help is included.
Overview & Download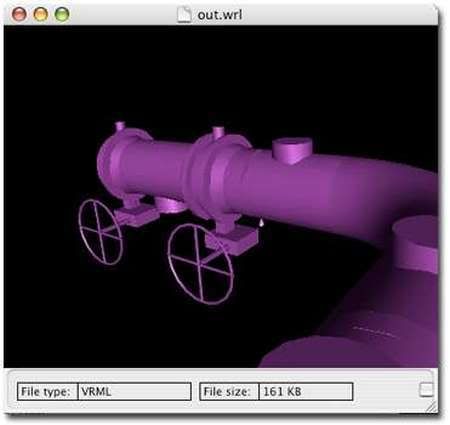 Production/Stable
MacOS X, Win32 (MS Windows), X11 Applications
Coin is an implementation of Open Inventor. Open Inventor is the de facto standard API for retained-mode 3D graphics programming. Open Inventor has a highly extensible design, and has been designed to allow for rapid development of highly interactive 3D graphics applications in the fields of CAD, engineering,
scientific computing, simulation, VRML, and visualization.
Overview | Download

Production/Stable
Windows, Linux
JPatch is an amazing 3D Modeling/Animation tool designed to model and animate "organic" shapes
such as humans, animals, aliens, etc. It is a bezier-spline modeler and works with so-called "Coon's patches", the same patches that are used by the popular Windows freeware modellers sPatch and Hamapatch and the commercial program Animation Master (they are called Hash patches there). JPatch is written entirely in Java.
Overview | Download

Production/Stable
X11 Applications :: GTK
SharpConstruct is an OpenGL graphics application that supports real-time sculpting of polygon meshes. The process is similar to painting on a canvas in a traditional 2D image program, but with an added dimension. Depth is simply brushed onto the model, offering an easy way to create highly detailed meshes.
Overview & Download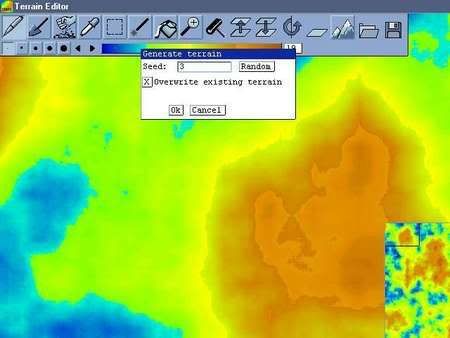 Production/Stable
Win32 (MS Windows), X11 Applications, X11 Applications :: Gnome, X11 Applications
:: GTK, X11 Applications :: KDE, X11 Applications :: Qt
Height Map Editor edits, generates, and manipulates terrain height maps. These can be used in terrain renderers, which are used in games, applications, and demos.
Overview & Download
Rendering

Production/Stable
MacOS X, ,Windows ,Cygwin, POSIX
GRASS (the Geographic Resources Analysis Support System) is a software raster-and vector-based GIS (Geographic Information System), image processing system, graphics production system, and spatial modeling system. It contains many modules for raster data manipulation, vector data manipulation, rendering images on the monitor or paper, multispectral image geocoding and processing, point data management and general data management. It also has tools for interfacing with digitizers, scanners, and the PostgreSQL, DBF, and ODBC connected databases. In the UNIX environment GRASS operates through a shell and a menu bar, and can also work under the X Window System. For MS-Windows a generic display driver is available.
Overview | Download

Beta
MacOS X, No Input/Output (Daemon), Win32 (MS Windows),X11 Applications :: GTK
Drqueue is a distributed rendering queue. It helps manage jobs on a render farm. It works under Linux, Mac OS X, FreeBSD, IRIX, and Windows, supports Maya, Blender, Lightwave, Mental Ray, Bmrt (Renderman), 3Delight, and Pixie out of the box, and can support any other renderer or computing task that can be handled via scripting.
Overview | Download

Beta
MacOS X :: Aqua, X11 Applications :: Qt
Earth3D visualizes the earth in realtime in a 3D view. One can rotate and zoom the view and fly around. Additional data layers can be added to the view, e.g. country flags and names. It uses data from NASA, USGS, the CIA, and the city of Osnabrück. The data is loaded on demand over the Internet.
Overview | Donwload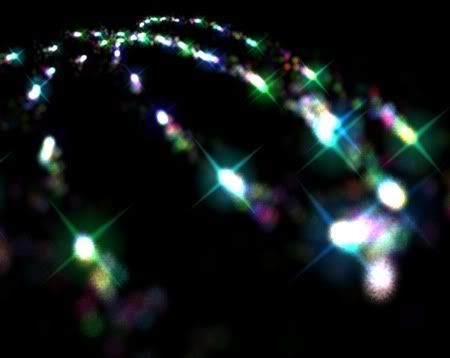 Beta
MacOS X, POSIX :: Linux
Fluxus is a graphical live coding environment for Scheme. Fluxus reads live audio or OSC network messages which can be used as a source of animation data for real-time performances or installations. Keyboard or mouse input can also be read for simple game development, and a physics engine is included for realtime
simulations of rigid body dynamics. The built in scheme code editor runs on top of the renderer, which means you can edit the scripts while they are running.
Overview | Download

Beta
MacOS X, Windows, POSIX
Mercator is a terrain generation and management library that handles the data required to handle terrain rendering and physics, including classes to handle vegetation.
Overview & Download

Beta
MacOS X, Win32 (MS Windows), X11 Applications
SkullyDoo is portable object-oriented software for 3D image segmentation and visualization. The software is implemented in C++, and uses FLTK (for GUI), VTK (for 3D visualization), ITK (for segmentation methods), Tcl (for plugins), and pipeline filters implemented in XML.
Overview | Download

Mature
MacOS X, Win32 (MS Windows), X11 Applications
Plush is a portable renderer that can render 3D images in real time.
Overview & Download

Production/Stable
Console (Text Based), MacOS X, Win32 (MS Windows), X11 Applications
Elmer is a computational tool for multi-physics problems that has been developed in collaboration with Finnish universities, research laboratories and industry.It includes physical models of fluid dynamics, structural mechanics, electromagnetics, and heat transfer. These are described by partial differential equations which are solved by the Finite Element Method (FEM). It comprises of several different
parts. The geometry, boundary conditions and physical models are defined in ElmerFront. The resulting problem definition is solved by ElmerSolver. Results are the visualized by ElmerPost. An ElmerGrid utility may be used for simple mesh manipulation.
Overview | Download

Mature
MacOS X
OsiriX is an image processing software dedicated to DICOM images produced by medical equipment (such as MRI, CT, PET, and PET-CT) and confocal microscopy (LSM and BioRAD-PIC format). It can also read many other file formats: TIFF, JPEG, PDF, AVI, MPEG, and Quicktime. OsiriX is able to receive images transferred
by DICOM communication protocol from any PACS or medical imaging modality. OsiriX has been specifically designed for navigation and visualization of multimodality and multidimensional images.
Overview & Download
Viewers

Mature
OSIX, Unix
Endeavour Mark II is a file browser/file manager with an image browser, a recycled objects system, and an archiver front end. It features all the common UNIX file operations for all types of disk objects found the UNIX realm. It also supports disk drive mounting, a fully customizable window appearance, a MIME Types system, and interapplication drag & drop support for KDE and GNOME compatability (although KDE and GNOME are not required).
Overview & Download

Production/Stable
Handheld :: PDA, X11 Applications :: GTK, X11 Applications :: Qt
RoadMap is a navigation program for Unix and PocketPC that displays street maps. Most of the maps are provided by the US Census Bureau, and thus only the US has a decent coverage at this time. A specific area can be displayed by entering a street address (street number, street name, city, and state). It interfaces with a GPS receiver through gpsd or the serial line to track the car position. It has been designed to be usable on a Linux desktop or laptop computer, or on a PDA (Linux or PocketPC).
Overview | Download

Beta
MacOS X, Microsoft :: Windows, Unix
Exiv2 is an EXIF and IPTC C++ library that makes reading and writing Exif and Iptc metadata easy. It provides full Exif makernote and thumbnail support. The Exiv2 command line utility prints Exif and Iptc metadata including Makernote tags in various formats, adjusts Exif timestamps, renames images according
to the Exif timestamp, extracts and inserts Exif and Iptc metadata and JPEG comments, or deletes the thumbnail or a specific type of metadata from an image.
Overview | Download
Where is Gimp, Inkcape, Bryce and many others?
They are in the previous post 45 Best Freeware Design Programs. So at the end we got 45+40 = 85 Free Design Programs isn't that great ? 🙂
Don't download any programs to edit your images
Edit your images online check 15 Free Online Image Editors.