When it comes to image editing, there are times when it can be a really entertaining activity for some. But what happens when you need to modify a picture and you're not at your place with your fancy computer and much loved editing software?
Well, I've never been in the situation but my wondering about it led to search for some solutions to that problem. I came across a lot of free online image editors and decided to take a look at the most talked-about ones.
Some are pretty basic (some might say primitive) but work very well for those essential editing tasks. Some have better-looking interfaces and more advanced features, if at times a little cluttered.
I'm not going to recommend to you which one to use because we, designers, are picky and like to try things on our own. However, I decided to give you 15 options for you to try and choose.
Check them out and share your thoughts about them!

XMG Image


Provides an interface for users to manage, edit, and share their images online. Not only you can perform all basic editing functions with this editor but you can also upload, tag, and label multiple images at a time, even from a zip file and post them directly to your chosen album or social network site or pre-generated codes for posting your images on any website.
www.xmgimg.com
Cellsea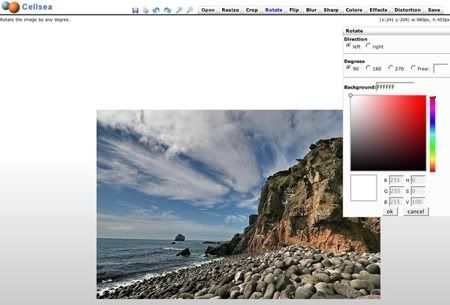 This picture editor covers all the basics common photo tasks. It also provides over 15 ways to correct color, exposure, and lighting problems. Transform your images using a collection of effects. Oil, Mosaic, Flare and more and professional-looking blur effects to your photos like Gaussian, Motion, Radial Blur and more
www.cellsea.com
Fauxto

This is a full-featured, free range, ambitious image editor. It supports layers, filters, canvas size, free transform and other advanced features and options. This Photoshop-like is considered by many the most advanced online image editor available online. This application can certainly be a great solution to attain software results without installation, MBs and money concerns.
www.fauxto.com
GIFWorks

Probably the oldest and most widely used online image editing tool in the market. This editor alows you to create animated GIF files. It also comes with a selection of Photoshop-like effects like Pixelate, Watercolor, TV Lines, etc. Its image Info dialog gives detailed information about the web graphic.
www.gifworks.com
Online Image Editor

One of the most convenient browser-based online photo and image editiors by many. It provides an easy-to-use interface which allows to quickly create/edit images, photos or graphics in a drag-and-drop environment. The processing takes place on your computer before uploading it to the server saving time and bandwidth.
www.onlineimageeditor.info
Online Photo Tool

With Onlinephototool you can edit and save your images, screenshots and photos online. If you register you could save with pictures online as well. It offers all the basic picture editing options like resize, filters, sepia, black/white, crop, rotate and flip, and more.
www.onlinephototool.com
Phixr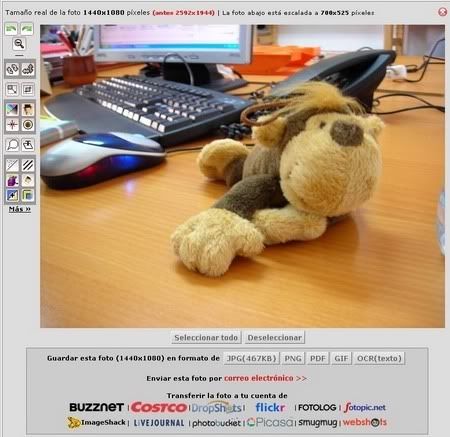 This editor allows you to edit multiple pictures and stay online for about 3 hours. It has a Clean, intuitive interface (very Web 2.0). Yo can save your picture as many formats or they can be directly uploaded to several online image albums without downloading them to your hard-drive. Effects preview available.
www.phixr.com
Picnik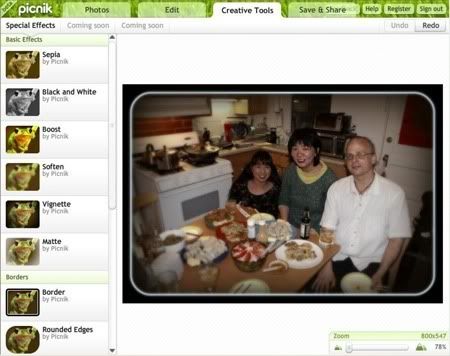 One of the most recent -no signup required- editors and holder of a great looking Web 2.0 interface. It has a good balance of versatility and usability and easily integrates with Flickr and Picasa web albums. It has some fun creative tools, in addition to the photo correction basics.
www.picnik.com
Picture2Life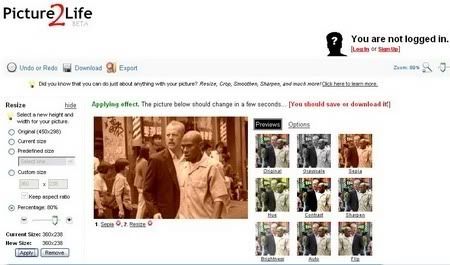 You can use this service without registering and enjoy some of its interesting photo enhancements. Despite the peculiar interface Picture2Life offers interesting effects in addition to the basics. It allows you to create animations and gives you a 25 MB storage space for your photos, or the possibility to create a picture RSS feed.
www.picture2life.com
Pixer.us

Need a quick fix for a photo? Pixer.us allows you to edit your photos online within your browser, add special effects and save them in the most popular formats without registration. All modifications are done in a non-destructive way so your images will always keep its original quality.
www.pixer.us
Preloadr

This clean-design editor intended to Flickr users (only works with a Flickr account) and is very easy to use. It includes basic tools like cropping, resizing, rotating and flipping, and some 'advanced' tools like image layers, histogram, scaling, moving, adding text and color channel graduation and several filters among others. Most of these are pop-up menus.
www.preloadr.com
PXN8

Sxoop Technologies Ltd. flagship product is very simple, bug-free and easy to use. This editor uses standard Web technologies (HTML, CSS & JavaScript) and works with all modern browsers (Safari, Internet Explorer (6+), Firefox and Opera). Its basic and "fun" tools, along with the fast zooming system, auto-enhance feature offers you a simple way to adjust or smarten your pictures.
www.pixenate.com
Snipshot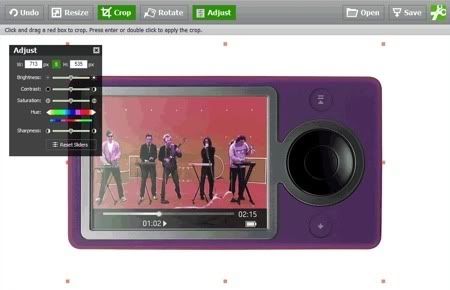 This no-signup editor allows you to do basic image fixing, like resizing, cropping, rotating, and adjusting color and brightness. It has a great interface, works fast, and offers a free API. It also has browser plug-in for easily getting web images for editing. Can be used to edit images up to 10 MBs.
www.snipshot.com
Web Photo Resizer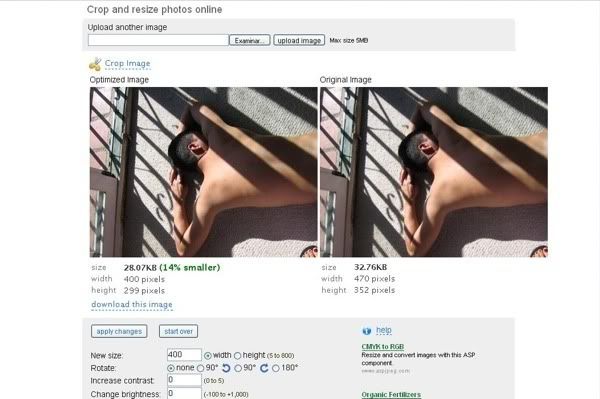 This free online photo editor helps you optimize images for web or email. It's very simple and easy to use. No registration required and no complex interface to do basic changes in a very fast way.
www.webresizer.com
Web Pic Tool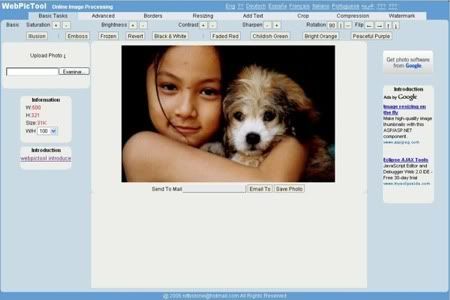 This image editing software is gaining popularity by supporting 10 languages and different image effects like Faded Times, Newspaper Photo, Manga and the really cool illusion effects (emboss, frozen, faded red, childish green and bright orange). Right now it seems to be optimized for use with Internet Explorer only.
www.webpictool.com