Video killed the radio star and brought a whole new way to inspire us. Music videos and the environment generated by MTV has expanded the visual innovation and creativity to further limits where creativity, art, design and music collide in the most splendid, eye-catching and absurd ways.
It would certainly be impossible to talk about hundreds of videos which could be an example of that; however, I decided to share with you some of my favorite ones hoping that they could be a source of inspiration.
Let me know what you think, and share your favorite ones with us. I hope to come up with a categorized selection of videos with elevated design components where your picks could come in handy.

"Scream" – Michael & Janet Jackson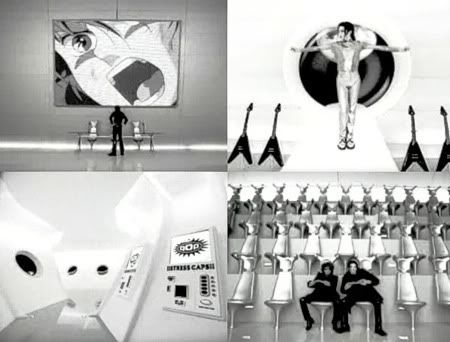 1st single from his 1995 album "HIStory – Past, Present and Future, Book I
" Mark Romanek directs this video that still remains as the most expensive video of all time. A "heavy sci-fi theme with features of anime and pop culture" was conceptualized to this never repeated duet. Where black & white environment create a Clean-cut futuristic realm.
animation/ industrial design/ interior design/ furniture design
Watch it @ youtube
About Mark Romanek @ Wikipedia
"Bedtime Story" – Madonna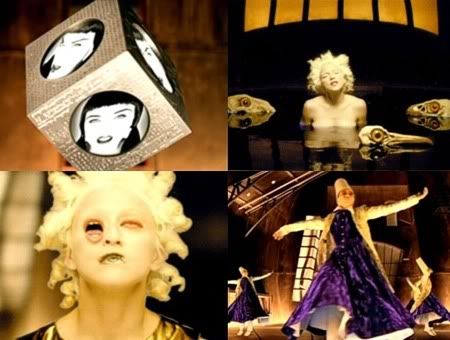 3rd single from her 1994 album "Bedtime Stories"
Madonna's most experimental and artistic video. Portrays an imagery that is dream-like or from a state of unconsciousness (as the song goes). She says that it was inspired by female surrealist painters like Leonora Carrington and Remedios Varo as well as Frida Kahlo. This video was acquired for the New York Museum of Modern Art's film and video collection.
animation/ costume design/ interior design
Watch it @ youtube
More in wikipedia about:
"Criminal" – Fiona Apple

2nd single from her 1996 debut album "Tidal"
This stylistically splendid and somehow controversial video for its –considered by some- cynical and exploitative nature present indisputably an evocative atmosphere. The camera follows in a voyeuristic manner sexy doomed-looking young people in different rooms and circumstances where strikes of color from different items come across.
interior design/ fashion design/ furniture design/ industrial design
Watch it @ youtube
"Turn My Head" – Live

2nd single from their 1997 album "Secret Samadhi"
This video is beautifully inspired by the work of the American contemporary realist painter John Register (1939-1996). It portrays a great use of light and shades and semi-still portrait-like images from everyday places wrap in glooming atmospheres.
architectural design / interior design
Watch it @ youtube
About John Register @ Wikipedia
"Living In A Magazine" – Zoot Woman

3rd single from their 2001 album "Living In A Magazine"
Costume design anyone? Fashion and music collides in this modern-day couture video where colors and irreverence come together. Fancy hairdos and daring clothing make appearance and changing conventional perspectives.
costume design/ fashion design
Wacth it @ youtube
"Sound of Violence" – Cassius

Single from the 2002 album "Au Rêve"
Despite of its photorealistic quality this video was produced entirely with computer-generated imagery. Going from the photorealistic landscapes to clearly digital ones to a rainfall of color. Cubes, lines, and a whole colorful collection of shapes dancing in front of us. A truly remarkable animation.
animation/ graphic design/ landscaping design
Watch it @ myspacetv
"Love at First Sight" – Kylie Minogue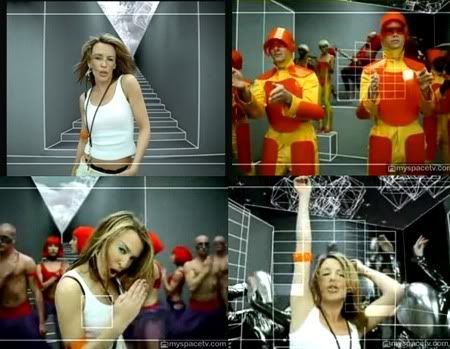 3rd single from their 2002 album "Fever"
Although simple for some it puts together about "5000 frames of 3D matchmoving sequences and rotoscoping" in a joyful and perky eye-catching video.The traces over Kylie's live-action film dancing are an agreeable touch that gives mobility to the video. By the way, did you see her pointy yellow heals?
animation/ costume design/ choreography Design/ fashion design
Watch it @ myspacetv
About Rotoscoping @ Wikipedia
"Lento" – Julieta Venegas

2nd single from her 2003 album "Si"
Tokyo will always be a source for visual inspiration as the Mexican Julieta expose in her video. Asian iconography, colors and a delicate use of computers with an animated flower-ish environment.
animation/ graphic design
Watch it @ youtube
"Crazy" – Gnarls Barkley

1st single from his 2006 debut album "St. Elsewhere"
This animated video was directed by graphic designer Robert Hales and inspired in the style of the Rorschach inkblot test (psychological) which goes perfect with the subject of this video. Mirrored inkblots morph into another and go from one shape to another, from different animals to Cee-Lo and Danger Mouse and the band's logo. animation/ graphic design
Watch it @ youtube
About Robert Hales @ HSI London
About Rorschach inkblot test @ Wikipedia
"Can't Stop" – Red Hot Chili Peppers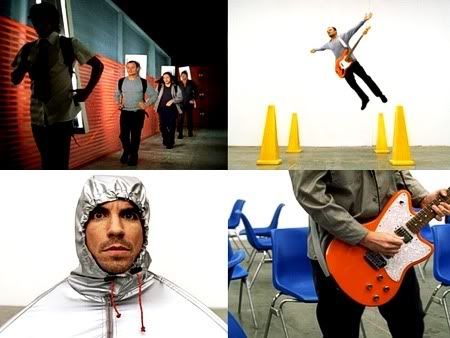 3rd single from their 2002 album "By the Way"
A giant mask? Yes. That and more abstract items were used in random absurd action scenes by the 4 members of the band for this Mark Romanek-directed conceptual video. This clean-cut, contemporary yet colorful piece was inspired for the "One Minute Sculptures" work by Austrian artist Erwin Wurm.
industrial design/ furniture design
Watch it @ youtube
About "One Minute Sculpture"at Artfacts.net
About Erwin Wurm @ Artmag.com