After the great feedback and suggestions we had with the post "70 designers that changed the world", we decided to make another list with your suggestions. So, here are more 30 great designers, architects, artists.

Andy Warhol
Painter + printmaker + filmmaker (1928 – 1987)



"Andrew Warhola, more commonly known as Andy Warhol, was an American painter, printmaker, and filmmaker who was a leading figure in the visual art movement known as pop art. After a successful career as a commercial illustrator, Warhol became famous worldwide for his work as a painter, avant-garde filmmaker, record producer, author, and public figure known for his membership in wildly diverse social circles that included bohemian street people, distinguished intellectuals, Hollywood celebrities and wealthy aristocrats." [1]


Marilyn, 1967
Mickey Mouse
Ingrid with Hat
Antoni Gaudí
Architect (1852 – 1926)



"Antoni Plàcid Guillem Gaudí i Cornet – in English sometimes referred to by the Spanish translation of his name, Antonio Gaudí – was a Spanish Catalan architect who belonged to the Modernist style (Art Nouveau) movement and was famous for his unique and highly individualistic designs." [1]


Palau Güell, 1885–1889
Expiatory Temple of the Holy Family (Sagrada Família), Barcelona, Spain
La Sagrada Familia: Passion facade, Barcelona, Spain
Armin Hofmann
Graphic Designer (1920-)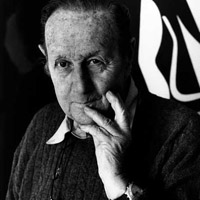 "Armin Hofmann (HonRDI) is a Swiss graphic designer. Hoffman followed Emil Ruder as head of the graphic design department at the Basel School of Design (Schule für Gestaltung Basel) and was instrumental in developing the graphic design style known as the Swiss Style. He is well known for his posters, which emphasised economical use of colour and fonts, in reaction to what Hofmann regarded as the "trivialization of colour". His posters have been widely exhibited as works of art in major galleries, such as the New York Museum of Modern Art." [1]


2 – Poster Municipal Theater Basel 63/64,1963


Battista Pininfarina
Automobile designer (1893 – 1966)



"Giovanni Battista "Pinin" Farina (later Battista Pininfarina) was an Italian automobile designer, the founder of the Carrozzeria Pininfarina coachbuilding company, a name forever associated with many of the best-known postwar sports cars (especially Ferraris).
The last design personally attributed to Battista Farina was the iconic 1600 Duetto for Alfa Romeo. This was first seen by the public at the Geneva Motor Show in March 1966." [1]


Cadillac 1931 452A Pininfarina X4520
Ferrari 1956 410SA SuperAmerica X4585
Cisitalia 1949 Pininfarina X4522
Charles and Ray Eames
Product Designers (1907–1978)  (1912–1988)



"Not only did Charles Eames and his wife, Ray design some of the most important examples of 20th century furniture, they also applied their talents to devising ingenious children's toys, puzzles, films, exhibitions and such iconic mid-20th century Los Angeles buildings as the Eames House and Entenza House in Pacific Palisades." [2]


EA124 aluminium chair, 1958
Eames lounge chair and ottoman (1956)
LaChaise, 1948
"Coco" Chanel
Fashion Designer (1883 – 1971)



"Gabrielle Bonheur "Coco" Chanel  was a pioneering French fashion designer whose modernist philosophy, menswear-inspired fashions, and pursuit of expensive simplicity made her an important figure in 20th-century fashion. She was the founder of the famous fashion brand, Chanel. Her extraordinary influence on haute couture was such that she was the only person in the field to be named on TIME Magazine's 100 most influential people of the 20th century." [1]


Chanel nº 5, 1921
Coco Chanel by Cecil Beaton
Hat by Chanel
Flaminio Bertoni
Automotive Designer (1903-1964)


"One of the 20th century's most gifted automotive designers, FLAMINIO BERTONI (1903-1964) was responsible for designing the bodywork of such classic – and stylistically diverse – cars as the elegant Traction Avant, supremely functional 2 CV and alluring DS 19." [1]


Citroën Traction Avant, 1934
Citroën 2CV
Citroën DS19
Eero Arnio
Interior Designer (1932 -)



"Eero Aarnio is a Finnish interior designer, well known for his innovative furniture designs in the 1960s, notably his plastic and fiberglass chairs.
Aarnio's designs were an important aspect of 1960s popular culture, and could often be seen as part of sets in period science-fiction films. Because his designs used very simple geometric forms, they were ideal for such productions." [1]


Ball chair, 1963
Screw Table
Bubble chair, 1963
Ferdinand Porsche
Automotive Engineer (1875 – 1951)



"Ferdinand Porsche was an Austro-Hungarian automotive engineer. He is best known for creating the Volkswagen (Beetle) as well as the first of many Porsche automobiles, and for his contributions to advanced German tank designs: Tiger I, Tiger II and the Elefant. Porsche was awarded in 1937 the German National Prize for Art and Science, one of the rarest decorations in the Third Reich." [1]


Ferdinand Porsche
Beetle, 1945
Panzerkampfwagen VI, 1942
Salvatore Ferragamo
Shoe Designer (1898 – 1960)



"Salvatore Ferragamo was a florentine and Italian shoe designer. He worked with many Hollywood stars in the 1920s, before returning to Italy to found the eponymous company making unique hand-made footwear. His scientific and creative approach to shoes spawned many innovations such as the wedge heel and cage heel. Film stars and celebrities continue to patronize his company, which has evolved into a luxury goods empire spanning the world." [1]


"Invisible" sandal, 1947
Ankle-strap sandal, 1938
Shoes, 1948–50
Frank Gehry
Architect (1929 -)



"Frank Owen Gehry, CC is a Pritzker Prize-winning architect based in Los Angeles.
His buildings, including his private residence, have become tourist attractions. Many museums, companies, and cities seek Gehry's services as a badge of distinction, beyond the product he delivers.
His best-known works include the titanium-covered Guggenheim Museum in Bilbao, Spain, Walt Disney Concert Hall in downtown Los Angeles, Experience Music Project in Seattle, Weisman Art Museum in Minneapolis, Dancing House in Prague, Czech Republic and the MARTa Museum in Herford, Germany." [1]


Dancing House, 1996
Walt Disney Concert Hall, 1999-2003
Stata Center, 2004


George Lois
Graphic Designer (1931 -)



"George Lois is an award-winning American Art Director, designer, advertising leader and author. George Lois is best known for the legendary and brilliant covers for Esquire Magazine which he produced as a consultant for Esquire from 1962 to 1972, never actually being an Esquire employee. Lois' Esquire covers offered a controversial statement on life in the 1960s with subjects including Marilyn Monroe, Norman Mailer, Muhammad Ali, Andy Warhol, Germaine Greer, and Richard Nixon. In 2008, The Museum of Modern Art exhibited 32 of Lois' 92 Esquire covers." [1]


MTV advertising, 1982
Art direction – Photo of Virna Lisi for Esquire magazine cover, 1965
Art direction – Photo of Andy Warhol for Esquire magazine cover, 1969

Gianni Versace
Fashion Designer (1946 – 1997)



"Gianni Versace was an Italian fashion designer and founder of Gianni Versace S.p.A., an international fashion house, which produces accessories, fragrances, makeup and home furnishings as well as clothes. He also designed costumes for the theatre and films, and was a friend of Elton John, Sting, and Princess Diana among many others. Openly gay, Versace and his companion Antonio D'Amico were regulars on the international party scene. Versace was murdered outside his Miami home at the age of 50 by spree killer Andrew Cunanan." [1]


1 – Haute couture collection, fall 1996
3 – Evening gown, spring/summer 1991
Giorgetto Giugiaro
Automobile and Product Designer  (1938 -)



"Giorgetto Giugiaro is an Italian automobile designer responsible equally for a stable of supercars and several of the most popular everyday vehicles driven today. He was born in Garessio, Cuneo, Piedmont.
Giugiaro was named Car Designer of the Century 1999 and inducted into the Automotive Hall of Fame in 2002. In addition to cars, Giugiaro has designed camera bodies for Nikon, computer prototypes for Apple, and developed a new pasta shape "Marille". [1]


DeLorean DMC-12, 1981
Maserati Ghibli Spyder 1969-73
Scirocco TS, NSR 1975
Harley Earl
Industrial Designer (1893 – 1969)



"Harley J. Earl was an automotive stylist and engineer and industrial designer. He is most famous for his time at General Motors from 1927 until 1959, where he was the first Vice President of Design. He designed the first concept car, the Buick Y-Job, he started "Project Opel", which eventually became the Chevrolet Corvette, and he authorized the introduction of the tailfin to automotive styling." [1]


Firebird II, 1956
Buick Y-Job, 1938
Futurliner, 1950
Jan Tschichold
Typographer and Graphic Designer (1902 – 1974)



Jan Tschichold was a typographer, book designer, teacher and writer. "Early in his career Jan Tschichold was a shit-disturber of the highest order, writing at length about all that had gone wrong since the industrialization of printing, and in particular of the complacency and mediocrity dogging typography between the wars. He wrote about revolutionary concepts like asymmetrical page layout and reinvention of the alphabet; and for this bolshevism he was incarcerated by the Nazis." [3]


"Die Frau ohne Namen. Zweiter Teil" (The Woman Without a Name, Part II), 1927
Sabon, 1964
Issue of Typographische Mitteilungen, 1925
Jimmy Choo
Shoe Designer



"Dato' Jimmy Choo OBE, born Jimmy Choo Yeang Keat, is a London-based luxury fashion designer best known for his hand-made women's shoes, Jimmy Choo Ltd.
Choo currently resides in London. He is currently involved in a project to set up a shoemaking institute in Malaysia, where his iconic status is often evoked to inspire budding shoemakers and fashion designers." [1]


Stay – encrusted with crystals, 2007
Gold sandal, 2008
115 mm metallic bootie, fall 2007



Josef Muller Brockmann
Graphic Designer (1914 – 1996)



"Josef Müller-Brockmann, was a Swiss graphic designer and teacher. He studied architecture, design and history of art at both the University and Kunstgewerbeschule in Zurich. In 1936 he opened his Zurich studio specialising in graphic design, exhibition design and photography. From 1951 he produced concert posters for the Tonhalle in Zurich. In 1958 he became a founding editor of New Graphic Design along with R.P. Lohse, C. Vivarelli, and H. Neuburg. In 1966 he was appointed European design consultant to IBM. Müller-Brockman was author of the 1961 publications The Graphic Artist and his Design Problems, Grid Systems in Graphic Design where he advocates use of the grid for page structure, and the 1971 publications History of the Poster and A History of Visual Communication." [1]


Akari
Beethoven – 1955
"Stravinsky, Berg, Fortner", 1955
Laszlo Moholy-Nagy
Painter and Photographer (1895 – 1946)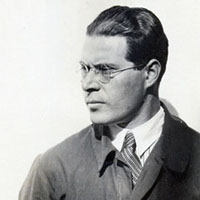 "László Moholy-Nagy was a Hungarian painter and photographer as well as professor in the Bauhaus school. He was highly influenced by constructivism and a strong advocate of the integration of technology and industry into the arts." [1]


Construction Z I 1922–3
A 19 1927
Composition #19, 1921
Le Corbusier
Achitect (1887 – 1965)



"Charles-Édouard Jeanneret-Gris, who chose to be known as Le Corbusier, was a Swiss-French architect, designer, urbanist, writer and also painter, who is famous for being one of the pioneers of what now is called Modern architecture or the International Style.
He was a pioneer in studies of modern high design and was dedicated to providing better living conditions for the residents of crowded cities. His career spanned five decades, with his buildings constructed throughout central Europe, India, Russia, and one each in North and South America. He was also an urban planner, painter, sculptor, writer, and modern furniture designer." [1]


Le Corbusier; Iannis Xenakis; Edgard Varèse – Poème électronique, 1958
Villa Savoye, 1929-30
Ronchamp chapel, 1955
Ludwig Mies van der Rohe
Architect (1886 – 1969)



"Ludwig Mies van der Rohe, born Maria Ludwig Michael Mies  was a German-American architect. Ludwig Mies van der Rohe, along with Walter Gropius and Le Corbusier, is widely regarded as one of the pioneering masters of Modern architecture. Mies, like many of his post World War I contemporaries, sought to establish a new architectural style that could represent modern times just as Classical and Gothic did for their own eras. He created an influential 20th century architectural style, stated with extreme clarity and simplicity." [1]


Farnsworth House, 1950
Barcelona Chair and Stool, 1929
German Pavilion, 1929
Michael Thonet
Product Designer (1796 – 1871)



"Michael Thonet was a German-Austrian cabinet maker. "With the invention of bentwood furniture, Michael Thonet laid the cornerstone of industrial production. Together with his sons he founded a company in 1849; within a short amount of time it became globally successful and expanded rapidly. More than 865,000 bentwood chairs per year were produced in today's Czech Republic, Hungary, and Russia." [4]


Bentwood chairs, 1850
Milton Glaser
Graphic Designer (1929 -)


"Milton Glaser is a graphic designer, best known for the I Love New York logo,his "Bob Dylan" poster, the "DC bullet" logo used by DC Comics from 1977 to 2005, and the "Brooklyn Brewery" logo. He also founded New York Magazine with Clay Felker in 1968." [1]


I Love New York logo, 1977
Urban Forest banner
Dylan – Design for Bob Dylan's Greatest hits album, 1966
Oscar Niemeyer
Architect (1907 -)



"Oscar Ribeiro de Almeida Niemeyer Soares Filho is a Brazilian architect who is considered one of the most important names in international modern architecture. He was a pioneer in exploring the formal possibilities of reinforced concrete solely for their aesthetic impact." [1]


MAC – Museu de Arte Contemporânea (Contemporary Art Museum), 1996
Church of St. Francis in Pampulha, 1943
Brasilia's Metropolitan Cathedral, 1958
Paul Rand
Graphic Designer (1914 – 1996)



"Paul Rand (born Peretz Rosenbaum) was an American graphic designer, best known for his corporate logo designs, including the logos for IBM, UPS, Westinghouse, ABC, and Steve Jobs' NeXT. He was one of the originators of the Swiss Style of graphic design." [1]


ABC Logo, 1961
Cummins Engine logo
IBM logo, 1972
UPS logo, 1961
Yale University Press logo
Westinghouse logo
NeXT logo, 1986
Enron logo
Philippe Starck
Product Designer (1949 -)



"Philippe Patrick Starck is a French Product designer and probably the best known designer in the New Design style. His designs range from spectacular interior designs to mass produced consumer goods such as toothbrushes, chairs, and even houses." [1]

Wrapped watches, 2007
Juicy Salif, 1990
Chrome Flos Gun Collection, 2008
Pierre Cardin
Fashion Designer (1922 -)



"Pierre Cardin is an Italian-born French fashion designer, known for his avant-garde style and his space age designs. He prefers geometric shapes and motifs, often ignoring the female form. He advanced into unisex fashions, sometimes experimental, and not always practical. He introduced the "bubble dress" in 1954. Pierre Cardin was also designated UNESCO Goodwill Ambassador in 1991." [1]


Cardin Coat
Cardin Coat
Cosmos, 1967
Raymond Loewy
Industrial Designer (1893 – 1986)


"Raymond Fernand Loewy was one of the best known industrial designers of the 20th century. Born in France, he spent most of his professional career in the United States where he influenced countless aspects of North American culture. Among his many iconic contributions to modern life were the Shell logo, the Greyhound bus, the S-1 locomotive, the Lucky Strike package, Coldspot refrigerators and the Studebaker Avanti. His career spanned seven decades." [1]


PRR S1 locomotive, 1938
Pencil sharpener, 1933
Seymour Chwast
Graphic Designer (1931 -)


Seymour Chwast an American graphic designer, illustrator, and type designer. Chwast is famous for his commercial artwork, which includes, posters, food packaging, magazine covers, and publicity art.[2] Often referred to as "the left-handed designer," Chwast's unique graphic design melded social commentary and an innovative approach to photography. He is thought of as a key American designer who, along with Herb Lubalin and Tibor Kalman, influenced Howard Milton. He is the font designer of Chwast Buffalo[3], Fofucha, Loose Caboose NF, and Weedy Beasties NF.


Ad for The Economist, 2007
The Push Pin Graphic: A Quarter Century of Innovative Design and Illustration, 2004
Various fonts
Will Wright
Game Designer (1960 -)



"William Wright is an American video game designer and co-founder of the game development company Maxis, now part of Electronic Arts. In April 2009 he left Electronic Arts to run "Stupid Fun Club", an entertainment think tank in which Wright and EA are principal shareholders." [1]


Sim City, 1989
Spore, 2008
The Sims, 2000
[1] Extracted from Wikipedia
[2] Extracted from Design Museum
[3] Extracted from Textism
[4] Extracted from Thonet.de
Hope you liked it and even have other suggestions. Let's talk about design! 🙂